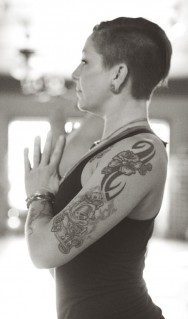 Marlo Ziegler E-RYT 200, RCYT, YAGD
Marlo is the owner of Chela Yoga LLC and founder of  Chela Yoga RYS. Marlo completed her RYT 200 with the Yoga Alliance in 2003 lead by her Teacher Linda Kay of then Yogachi, Birmingham, MI. She then received her E-RYT 200 and RYS for Chela Yoga in 2011. Marlo then became a member with YAGD ( Yoga Alliance of Greater Detroit) in 2012. Marlo specializes in teaching Ashtanga/Vinyasa Yoga, but also enjoys teaching many other styles. Marlo prides herself on knowing her clientele, so that she may adjust the practice to fit each and everyone of her students needs, and capabilities. She brings a fun relaxed air to her class while focusing on the inner beauty of yoga. Strong Pranayama (breath control), Meditation, compassion on and off the mat, and removing the ego are a few things you will hear about often in her class. Marlo lives here in Waterford with her husband, and their three lovely kids. When Marlo is not teaching yoga or spending time with her family she stays active in her community and enjoys volunteering her time to different charities.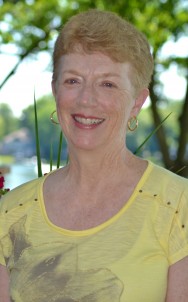 Ann Stone RYT 200
Ann has been practicing yoga for 25 years. Marlo inspired her to deepen her practice by taking the yoga teacher training at Chela Yoga RYS. She completed her RYT 200 yoga certification with Marlo in June 2013. Yoga helps her to maintain balance in her life. Ann's belief in encouraging everyone to let their light shine guides her teaching practice. She feels that the practice of yoga helps to open the mind, body and spirit to live in the present, reducing stress. Ann and her husband Don live in Waterford, where they raised their three children. Ann and Don enjoy spending time with their three grandchildren. Ann is a retired elementary school teacher who in retirement teaches parenting classes. She brings her love of teaching to the yoga mat and is so grateful to be a member of the Chela-Yoga Studio.
Sandy Flury RYT 200 
Sandy, a lifelong resident of Waterford has owned and operated a restaurant  for 17 years. She has 2 children and is currently finishing her degree in Psychology and plans to attend law school. Sandy started practicing yoga in 2010 on a whim. Always an avid "cardio junkie" she unexpectedly fell in love with the practice! After experiencing a personal tragedy, she credits yoga with being a key player in her healing process. Sandy hopes to bring to her students , a sense of personal accomplishment and an example that even people with little or no flexibility can benefit from a yoga practice. Namaste ♡ Sandy  *Sandy completed her RYT200 at Chela Yoga RYS w/Marlo Ziegler in June of 2013.
Carrie Gordon RYT200
Carrie finished her Yoga Alliance Accredited RYT200 Teaching training with Marlo at Chela Yoga RYS in June 2014. Yoga Inspires & challenges her to keep growing to be the most authentic version of herself, as a student and as a teacher. Yoga connects Carrie to her spirit and has deepened her desire to learn, teach, encourage and inspire. Carrie is also currently volunteering her time teaching yoga to the women of Grace Centers of Hope in Pontiac. Carrie resides in Waterford with her husband Phil and is the proud mother of three amazing boys/men. Finding her mat found her Hope, Happiness, Strength and acceptance. Namaste
Abena Stone RYT200
Jess Dues RYT200
Jess left her country upbringing and moved to the Metro area about 5 years ago to follow a career in the Business Staffing. Jess has always been an intense fitness buff, loving more of a hardcore, full body workout until she accidentally stumbled  upon the calming, peaceful practice of Yoga.  Yoga not only challenged Jess's body but also her mind in a different way that she was used to. It unlocked a new passion, a passion to want to share this life altering practice. In 2014 Jess began teaching Gentle/Yin based classes after her Spin class at a local Gym. From there her love for Yoga grew even deeper which brought her to Chela Yoga. In 2015 Jess completed her RYT200 with Marlo Ziegler. Jess enjoys teaching multiple forms of Yoga from Slow Flow to Gentle, but her favorite is the more restorative, relaxing practice of Yin.
Karen Cox RYT200
Karen has been a registered nurse fro over 30 years and has always had a passion for helping people live healthy, happy lives. In 2014, after injuring both shoulders, Karen fell in love with the way yoga not only helped her shoulders heal but also her whole self; mind, body and spirit. Karen truly feels that yoga has improved her quality of life in many ways and she is happy to help others do the same. Karen completed her RYT200 in 2015 with Marlo Ziegler at Chela Yoga.
Jody Arnold RYT 200
Jody is an Oncology nurse at the University of Michigan, and believes it is important to treat the body, mind, and spirit during the healing process. Jody has been practicing yoga on and off for approximately 10 years, and started practicing regularly again in early 2015 while going through a serious illness of her own. For Jody, yoga was proven an effective way to decrease anxiety, increase calmness and well-being, as well as regain strength, and her love for the practice was quickly rekindled. Jody decided to participate in Chela Yoga's RYT200 program to deepen her own practice, and completed the course in June 2016. Through teaching yoga, Jody hopes that she may help encourage strength, calm, and bring light to individual's inner selves. She would like to show her students that yoga comes from within, and can be practiced among a variety of physical ability levels.
Cortney Trebus RYT200
Cortney has been practicing yoga since 2011. She really fell in love with yoga when she was introduced to Ashtanga and it pushed her to want to teach yoga herself. Originally from Ohio, she found Chela while going to college in Michigan and found her home. Once she graduated from Kettering University, she completed her RYT200 yoga certification with Marlo. Yoga opened the door between the body and mind, and has been very helpful in overcoming anxiety for Cortney. She hopes through her classes she can bring peace and positivity to Chela students.